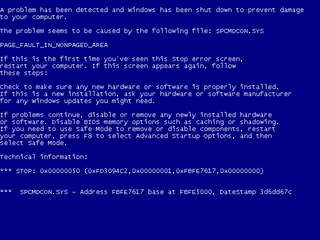 The Blue Screen Of Death (BSOD) is an error screen in Microsoft Windows. The error codes, or STOP codes, are given as hexadecimal numbers, such as 0x0000007b, which is often shortened down to just 0x7b.
If a 0x7B error happens during bootup of the Windows XP installation CD, it could be caused by a lack of a harddisk driver. You can either slipstream the driver or copy it to a floppy drive and use the F6 option on bootup of the installation CD. Note that the F6 option requires an internal old-fashioned floppy drive, it's been reported not to work with a USB floppy drive.
Extra info
Edit
Troubleshooting 0x7B STOP code - by "The SBS team"
How to troubleshoot a Stop 0x0000007E error in Windows XP
Error: DRIVER_IRQL_NOT_LESS_OR_EQUAL. This error is given when memory is trying to be accessed that is at a too high address. This is usually caused by a faulty driver. Look into info about the file it might give in the bottom part of the BSOD.
External links
Edit
Ad blocker interference detected!
Wikia is a free-to-use site that makes money from advertising. We have a modified experience for viewers using ad blockers

Wikia is not accessible if you've made further modifications. Remove the custom ad blocker rule(s) and the page will load as expected.